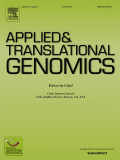 Applied & Translational Genomics is a new open access biomedical journal providing a forum for publication and discussion of cutting edge research and new developments in applied and translational genomics, including information technologies that enable both advances in the field as well as the application of advances to clinical care and educational, ethical, economic, public health, citizen and policy issues pertinent to research advances. As such the Applied & Translational Genomics is a uniquely interdisciplinary journal. Further, it aims to publish new approaches to 'translational genomics', such as studies designed to probe the elasticity and dynamism of molecular processes.


The Journal's mission is to enhance the knowledge, clinical adoption and discussion of applied and translational genomics worldwide. Its ethics mission is to enable global benefit sharing through the publication of articles, analyses and commentaries of researchers, clinicians, and patient populations situated throughout the world.


The remit of the journal is broad to provide wide coverage across applied genomics and translational genomic research.
Instructions for authors are available on the Journal's website: http://www.elsevier.com/journals/applied-and-translational-genomics/2212-0661/guide-for-authors




Contact

Ms. Jessica Tong
Organizing Committee of WDD-2016
BIT Congress Inc.
East Wing, 11F, Dalian Ascendas IT Park,
No. 1 Hui Xian Yuan,
Dalian Hi-tech Industrial Zone,
LN 116025, P.R.China
Tel: 0086-411-84799609-805
Fax: 0086-411-84799629
Email: Jessica@dnaday.com